News
Creation of CTE BOIS

This summer 2021, the CTE Group opens a new agency specialized in wood: CTE Bois. The CTE Group can now offer a comprehensive response in terms of structural design (concrete-metal-wood).
CTE Bois carries out execution studies for wood structures of all types, from simple to complex projects, as part of an all-encompassing project management contract or as a subcontractor to your company.This in-house skill enhancement allows CTE Bois to design structural frameworks that aim to use the right material in the right place, to provide a response tailored to the various architectural, structural and environmental constraints.
BIM World 2020

This year BIM World will take place from october 23 to June 24 2021 in VIPARIS PAVILLON 6 - In Paris, Porte de Versailles. CTE Team will be attending this event as visitor. Please do not hesitate to contact us (by phone, through the agency numbers, or by mail) if you would like to take this opportunity to meet us.
CTE Lyon has been in charge of the execution of the concrete structure of the pavilion. This construction site represents a total of 15 000 m2 of exhibition space, 900m2 of accessory area, 2 000m2 of event space and 45 000 m2 of parking space. This project was carried out in BIM with software Revit and Allplan.
Project owner : VIPARIS
Prime contractor : Valode & Pistre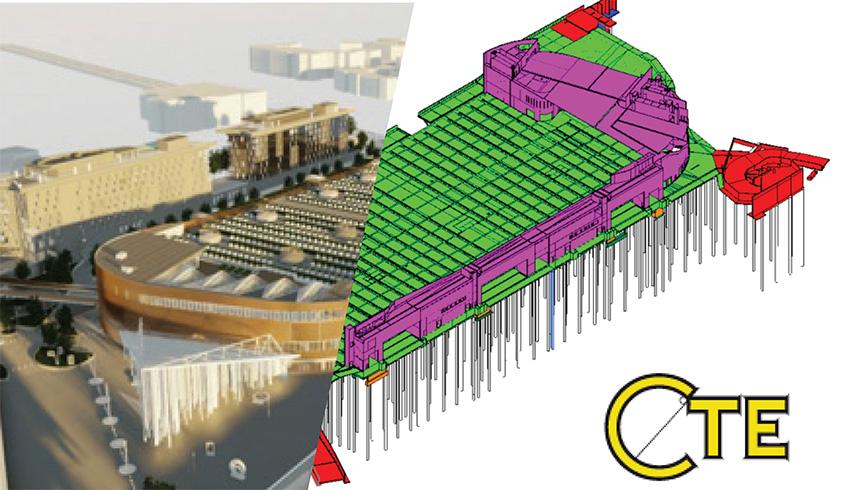 Creation of CTE CM
In order to extend its service offering, on 1 March 2019 the CTE group launched a new subsidiary specialising in structural steel work, CTE CM.
This subsidiary will be managed by an expert in his field, a graduate of CHEC (Centre for Higher Studies in Civil Engineering) and CHEM (Centre for Higher Studies in Steel Structures) with over 15 years' experience on the ground.
CTE CM's activities will mainly centre on analysis and design studies of all types in the area of complex steel structures for all the players in the construction industry (project owners, project managers, contractors, etc.).
We offer a wide variety of services for every stage of a project.
The services we offer include
Assistance for designers
Search for optimum economic solutions
Preparation of tender documents
Static and dynamic analysis
Production of all the working drawings for structures
Assistance during the construction phase